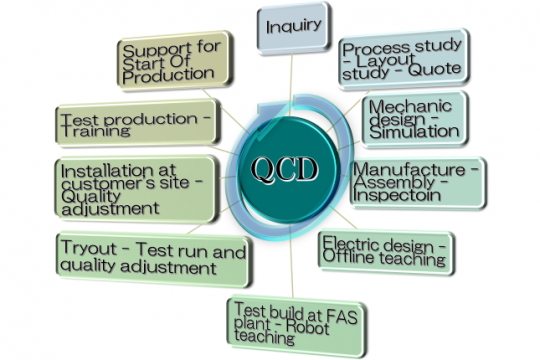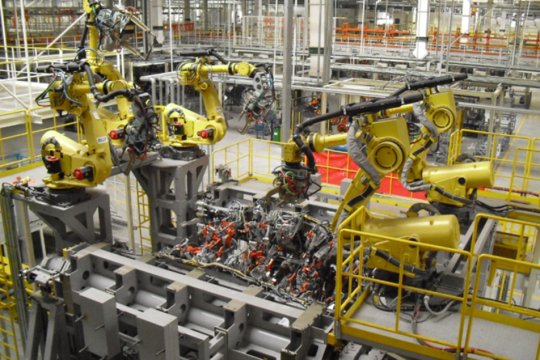 We Are Providing Full Turnkey Automotive Assembly Line Production Systems
For Many Automotive Manufacturers All Over The World.

OUR PRODUCTS AND SERVICES:
Fuji Assembly Systems is an Automotive Assembly line production systems supplier.
Based on our extensive experience (mainly welding assembly systems of automobile bodies), we can offer solutions of any size, from Single subassembly cell to Large scale body shop.
We have experience in providing many kinds of systems, such as Manual systems of small production volume, Full-automated systems of large production volume, as well as Versatile multi-model systems.
Our service is targeting very wide range of car models, from compact cars to heavy-duty commercial trucks. Our systems are active in many automotive production plants: not only in Japan but all around the world.

Our advantages are; The total power to provide complete service, not only design or manufacturing but also on-site installation and start-up including after-sale services, and The convenient company scale to provide a speedy solution to the needs of our customers.

Together with our customers, we are pursing the Technique of Manufacturing a Reliable, Maintenance-friendly and Durable System, in order to continously improve the quality of Automobiles.
OUR VALUES:
>To Provide Our Systems With Higher Speed And Quality.
In order to adapt to the daily changing automotive industry and emerging new technologies, we are always researching information and investigating.
When a manufacturer is planning a new automobile assembly system for model change or minor change, we are there to provide a more efficient production solution with updated technologies.

>Top Engineering Level In The World.
Always with the Spirit of Kaizen, we are aiming for the top position in the worldwide industry.
Only a few Japanese companies can supply their Line Production Systems to both Japan and Oversesas, and FAS is one of those and we continuously receive requests from Oversea customers.
Using the high-level engineering techniques Made In Japan, we propose the production process plan at its finest and provide high quality systems to the manufacturers, contributing to our customers and to the society.
SAMPLE OF OUR SYSTEMS: